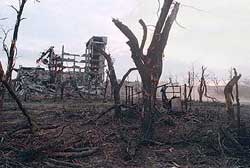 Comprehensive background information on the conflict in Chechnya. It includes: summary of the main news related to the conflict, a concise list of persons involved in the conflict, official and unofficial casualty statistics, collection of news related to the military activities.
CONFLICT INFO
>
CASUALTIES


Census in Chechnya is over
Leader of the civil organization "Independent Consultation Council", Baudi Dudayev, thinks that the head count offers "fictive data".


CONFLICT INFO
>
MILITARY

(1-10)

And the mountains will remain
What is really happening is that with the ending of the counter-terrorism operation in Chechnya another counter-terrorist operation is spreading to the whole of Russia.


The war is lost, gentlemen!
The underground, which knows how to survive under the heel of a wealthy state with no lack of funds or human reserves, will find a way of making holes in the fragile system of defence.


How the bandits got their funding
The set of concepts with which the Kremlin operates in the Caucasus and the active vocabulary it uses to describe the armed conflict in the region remains for the time being utterly threadbare.


The Crusade hangs fire
In the ninth year of the war experts say that the principal factor now blocking the effectiveness of Kadyrov's forces is the position adopted by the Russian military.


Fail grades in Russian and warfare
The audacious attacks carried out by guerrillas in Chechnya during recent days have revealed the vulnerability of the military strategy the Kremlin has constructed in the rebel republic.


The underground gets its second wind
The Alkhazurovo raid in May, the similar attacks in Benoy, the shelling of a convoy near the village of Chishki, the shooting-up of an APC near Bamut: such is the incomplete list of recent sabotage actions by the Chechen underground.