"Kadyrov's involvement must be one of the theories...." (Interview with Oleg Orlov, chairman of the Memorial Human Rights Centre)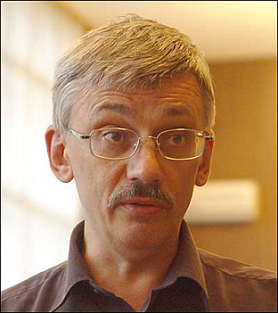 Prague Watchdog: Your telephone conversation with Ramzan Kadyrov has given rise to a lot of speculation, and it still isn't clear why he called you. Was it perhaps an oblique attempt to express sympathy?
Oleg Orlov: No, it wasn't an attempt to express sympathy, not in any way. There was no threat in what he said, but it contained not a shadow of sympathy.
PW: So he was simply angry about your accusations against him and wanted to let you know how he felt?
OO: Yes, he was angry, and he told me that he objected to the fact that I was holding him responsible, without any justification, as he saw it, for the death of Natasha Estemirova. He said he had relatives who would be very upset that such a thing was being said about one of their own. He spoke very calmly, and said I would be ashamed when my accusations turned out to be wrong.
PW: A civil lawsuit has been filed with the prosecutor's office alleging an assault on Kadyrov's personal honour and dignity, and the police department has been informed that criminal proceedings are to be taken against you for slander. Do you have a strategy for your own defence?
OO: I don't think I should talk about the line of defence I plan to take, or how I will conduct myself at the trial. There is not only a civil lawsuit, after all, but also a criminal case. Thus, my position will be represented in the course of the various legal proceedings and court procedures. There is no sense in informing the prosecution in advance about the way I intend to prove that their charges are unfounded.
PW: You have suspended the activities of the Grozny office the Human Rights Centre. For how long?
OO: It was a decision we all took together. After Natasha Estemirova's funeral we went back to the Grozny office and sat for a long time discussing what to do next. And we agreed that we should temporarily – I emphasize, temporarily – suspend the activity of all Memorial's branches in the Chechen Republic. The suspension is motivated by the fact that a very serious threat to the lives, health and safety of our employees has emerged, that the republican authorities show active hostility to any independent public initiative, and that highly placed officials are making direct public threats to human rights defenders.
As far as the time frame is concerned, we can't say exactly when our work will resume. It may happen very quickly, but in order to take our decision we will have to carefully consider all the circumstances and make a sober judgement. But we haven't yet recovered from the shock, and are unable to think soberly.
PW: Is there any hope that the murder will be solved by the authorities?
OO: Dmitry Medvedev sent a telegram to our Grozny office in which he said that he was deeply shocked by the murder, that the crime would be thoroughly investigated and that the offenders would be punished. The President expressed this conviction, and we would very much like to believe it.
I gave evidence to the investigative group and drew attention to the recent cases of abductions, killings and human rights violations which Natasha was following. I am deeply convinced that the investigation of those cases could eventually lead to the killers being traced. The investigative group, for the present at least, is seriously engaged in the checking of the information that is supplied to it, but as to what may happen next it is difficult to say. We know what usually happens – the investigators work actively and in good faith, but then a sort of barrier is reached, and they are simply not allowed to go any further. That is what the investigative group came up against in its work on the murder of Anya Politkovskaya. And what about the thousands of cases of abductions and extrajudicial killings in the Chechen Republic? The investigation didn't even try to find out ninety-nine point nine percent of what happened in those instances.
PW: But how is it that Dmitry Medvedev has already managed to take Ramzan Kadyrov under his protection, while Kadyrov cannot be removed from suspicion until there is sufficient evidence that he was not involved in the murder?
OO: Well of course I think that Ramzan Kadyrov's direct involvement in the crime must be one of the theories that is considered by the investigation. If all the circumstances are to be given a serious and thorough examination, all the possible theories must be explored. There also needs to be an examination of other officials of the Chechen Republic who may have committed the crimes that Natalya Estemirova wrote about.
Photo: hro.org.
(Translation by DM)
(P, DM)