Zakayev's appearance on the Chechen stage indefinitely postponed (weekly review)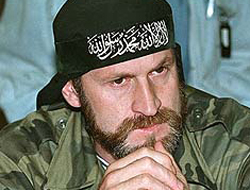 By Dzhambulat Are
GROZNY, Chechnya – This past week, Ramzan Kadyrov once again publicly invited his opposite number Akhmed Zakayev to Grozny. In an interview for Rossiyskaya Gazeta, the Chechen president noted Zakayev's merits, which he said included "professionalism" (Zakayev is a good actor) and "level of education" (he is a highly educated man).
"In Grozny we have a theatre where he could act again, or he could run the state concert hall," Ramzan Kadyrov said in response to a reporter's question about a possible job placement for the Ichkerian prime minister.
If he were at last able to lure the notorious disturber of the peace from the shores of misty Albion to the banks of the river Sunzha, Kadyrov could celebrate a major victory. It would mark the collapse of the final and principal stronghold of ethnic Chechen separatism in the West.
The fact that a telephone conversation with Kadyrov did indeed take place was confirmed by Zakayev himself in a Radio Liberty interview. However, in his version of the event he said that the initiative came from Kadyrov.
It transpired that Kadyrov and Zakayev have long been engaged in negotiations on this issue. The recent appearance in Grozny of Ichkerian minister Yaragi Abdullayev, who until recently shared with Zakayev all the hardships of life in London, seemed to point directly to the separatist leader's imminent appearance at Kadyrov's base in Khosi-Yurt.
Nevertheless, Zakayev categorically denied that there was any truth in the stories of his possible return. The London-based exile said that one of Kadyrov's aides came to visit him seven or eight months ago. Zakayev was told that if he returned to Chechnya, all charges against him by the Russian prosecutor's office would be dropped. These guarantees were given personally by Kadyrov, who had discussed the matter with someone from the top Russian leadership, probably even President Medvedev.
Zakayev is being very cautious. In an interview for the BBC's Russian Service he said that no matter what the terms of his return were, it would be declared a successful operation for his arrest as an international terrorist.
Alas, it looks as though it is merely the unreliability of the guarantees offered to him that compels the Ichkerian leader to remain a protagonist in an ephemeral political process. In spite of the fact that this process has long existed solely in his imagination, Zakayev stubbornly continues to play the role of the ghost of Hamlet's father in some obscure play. He argues that, contrary to the Kremlin's assurances, the problem of Chechnya has not been resolved. And in any future negotiations, Zakayev will once again be able to claim a key role, as he did in 2001.
Indeed, it is hard to imagine that the Kremlin's partners in those talks, if ever they take place, would be the mujahedeen of Dokku Umarov. And so it may be that the day of Akhmed Zakayev's usefulness (whether to Moscow or the West) as a "separatist" counterbalance to radical Islamic sentiment in Chechen society has not yet arrived.
That is why in giving a generally positive assessment of Kadyrov as "the liberator of Chechnya from Russian colonial rule", Zakayev – just to be on the safe side – never forgets to put a fly in the proverbial ointment. When cornered by a question from his interviewer about whether he sees Kadyrov as a traitor, the prime minister sadly observed: "Kadyrov has become a conduit for Russian policy, and history will evaluate what he is doing in Chechnya today as treachery."
It looks as though the chances that the London recluse might earn an amnesty in the event of his return are really not very great. At the end of the week the Russian prosecutor's office said there was no reason to withdraw the charges against Zakayev. Poor Ramzan Kadyrov! Once again it is clear that in Moscow there are forces happy to play dirty tricks on him whenever it suits them.
Photo: K2Kapital.
Previous weekly reviews can be read at http://www.watchdog.cz/weekly.
(Translation by DM)
(P/T)