Rain hits Chechnya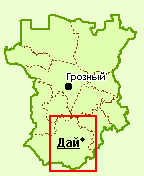 By Ruslan Isayev
CHECHNYA – Heavy rains in the mountain districts of Chechnya have created a threat of flooding, Prague Watchdog has learnt at the Chechen government's Ministry for Emergencies.
The situation has worsened in almost all mountain districts, as a heavy downpour that began on Sunday night ended only this evening.
In some villages the rain has created a threat of flooding. The roads in the village of Day and many other villages of the Shatoi district are already virtually impassable. The town of Shatoi itself also nearly lost contact with the plain - the only road to Grozny was under threat of erosion. The Ministry has sent special machines to the area and concerted action with the local authorities meant that this danger was averted.
In addition, the low-lying Nadterechny, Naursky and Shchelkovsky districts that are located along the river Terek also sent out a distress signal about the danger of flooding. The Ministry sent a team which will be on the ground to monitor the situation and keep a check on the level of the river.
In Grozny the situation has been difficult, as usual. In many streets enormous puddles formed where drivers did not dare to risk their cars. As a result, there were huge traffic jams.
Grozny's municipal services worked almost throughout the night. Special machines siphoned off the water and pumped it into the river Sunzha.
Weather forecasters say that the bad weather will continue. For the next three days Chechnya can expect more heavy rain and thunderstorms.
(D/T)