Chechen children dance group Marsho arrives in the Czech Republic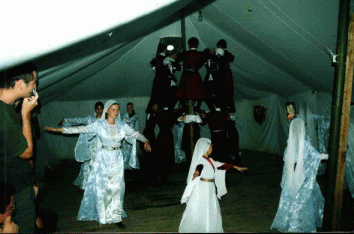 (Prague Watchdog) - The Chechen children dance group Marsho that will go on a two-week tour of the Czech Republic within the project "Before the War I Had Toys" arrived in Prague this afternoon.
"The children showed their dance bursting with immense energy right at the airport," Jana Hradilkova of the civic association Berkat, which organizes the tour, described the first moments at the arrival lounge.
Berkat operates in the Czech Republic and Ingushetia and it tries to improve the living conditions of children and families from the North Caucasian republic of Chechnya. Regarding its establishment and character, Berkat is not a typical humanitarian organization. Rather, it tries to create the broadest personal involvement of those who need help and those who provide it.
Updated information about the tour will be available at http://www.watchdog.cz/marsho.
Note: The picture shows Marsho at a tent in a refugee camp in Ingushetia.
(T)