Marsho tour (www.watchdog.cz/marsho)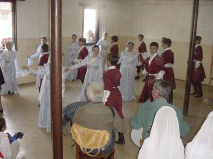 An updated file with articles on the Chechen children dance group Marsho, which is touring the Czech Republic between January 6 and 18, 2003 at the invitation of Prague-based association Berkat.
MARSHO TOUR

(1-10)

Marsho's concerts in Prague, Brno sold out
"The interest in the performance of the children surpassed all our expectations. Now we are only afraid of the cultural aspect of the event putting in the shade the idea to highlight the ongoing crisis in their homeland," Hradilkova said.


Marsho gives first performance abroad
"The children were very natural. They seemed to have almost no stage fright, although they several times admitted having the jitters," said Jana Hradilkova of the organizing Berkat.