The lame duck president (weekly review)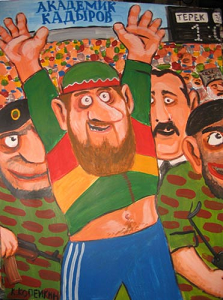 By Vadim Borshchev, special to Prague Watchdog
When last week the website of an "initiative group" for the nomination of Ramzan Kadyrov as a candidate for the post of Russian President in 2012 appeared on the Internet, it is said to have caused the Chechen leader no small measure of anger.
Rumours that Kadyrov might one day become Russia's President have been circulating for at least four years – but the head of Chechnya has done little to refute them. It seems that a few years ago he found such talk flattering because it promoted his status, at least speculatively, from the regional to the federal. Just four years ago, Kadyrov's adviser Timur Aliyev, a man sensitive to the leadership's moods, devoted an article to this subject in which he took his superior's Kremlin prospects perfectly seriously. At the time these reflections sounded fresh and chilling, with their hypothesis that Russia might eventually be led, if not by Kadyrov himself, then at least by someone like him.
Looking back, we may recall that when Kadyrov's star had only just began to rise, Moscow followed the young leader's fortunes with apparent interest. The journalists liked to write that despite his murky past, the Chechen politician was talented and quick on the uptake, acquiring the respectable guise of a civil servant who was able to express his thoughts and conceal his ruder habits. It was also at that time that ex-Dudayev regime foreign minister Shamil Beno's characterization of Kadyrov as a successful military and political manager became popular in media circles.
Nowadays, however, Kadyrov's success in the role of manager has been called into question. When Vladimir Putin handed power to his successor, he pointed to the main result of his presidency: the war in the Caucasus was over, the victory won. Less than two years later it looks as though the ex-president was rather premature in his declaration of peace. Last summer, contrary to most expectations, the Islamist fighters launched large-scale operations in Ingushetia, Dagestan and Chechnya, and adopted a new terrorist strategy.
Kadyrov knows perfectly well that he has no chance of employment at federal level beyond a minor supernumerary post like the ones that are usually awarded as consolation prizes to guilty government officials who are being given the boot. That, presumably, is why the above-mentioned Internet site made him so angry.

Picture: sookina.livejournal.com.
(Translation by DM)
© 2010 Prague Watchdog (see Reprint info).
(P,DM)