Draft of Chechen constitution burned on eve of referendum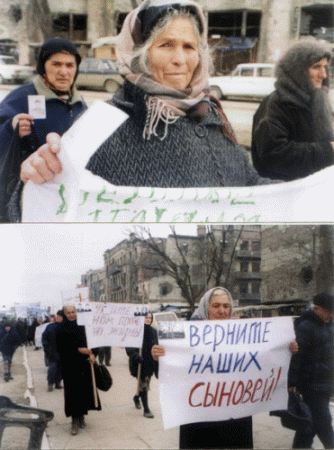 Timur Aliyev, North Caucasus – Some 300 Chechens, whose relatives "disappeared" during Russian mop-up operations, staged a demonstration today in Grozny against the March 23 referendum. They ended their protest by burning several booklets containing drafts of the Chechen constitution.
Protesters marched through the main streets from Teatralnya Square to the Chechen administration building, holding photographs of kidnapped relatives, and banners with "Return our sons!" in Russian, English and German. Throughout the march, they chanted, "Withdraw the troops!" and "Referendum in exchange for our sons!"
"How can the referendum be held when every day our children disappear during mop-ups?" said a woman who took part in the protest.
"I want the organizers of the referendum to know what Chechen mothers are experiencing these days," said Markha Zakriyeva, who lost her only son.
After returning to Teatralnaya Square, the demonstrators burned booklets containing texts of the constitutional draft and acts on presidential and parliamentary elections.
Photo by Tamara K.
(T/E)