An inspection of military mayhem (weekly review)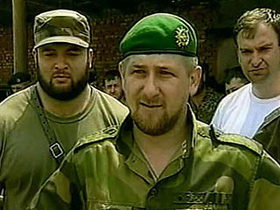 By Dzhambulat Are
GROZNY, Chechnya – The war that is regularly declared to have been victoriously won is now almost in its tenth year, yet its end is still not in sight. So, at a meeting with members of the Police Patrol-Post Service on January 10, the Chechen President – who must now fulfil the crucial task of completing the counter-terrorist operation begun by the Kremlin at the end of the last century – set a new goal for the year just begun: the definitive and irreversible destruction of the Ichkerian forces.
In his speech, President Kadyrov expressed his usual very low opinion of the enemy's fighting potential. In his view, the remnants of those groups which are still active are "thoroughly depleted and do not represent a major threat." He none the less called on his men not to relax, but rather to pursue their co-ordinated efforts "until all the militants are detained or destroyed."
It is, however, obvious that Kadyrov and his colleagues still have some adversaries to fear. Over the past few weeks alone, before leaving for their winter mountain bases, the guerrillas carried out a series of audacious attacks in the villages of Agishty, Ustargardoi, Shalazhi, Benoy-Vedeno, Tazin-kala, and elsewhere. Moreover, the mujahideen, who activated their contacts with the media via the Internet and mobile phones, now claim to have almost complete control of the mountain and forest areas of southern Chechnya. They say that they are experiencing not the slightest lack of manpower. The influx of new recruits to their ranks is growing from year to year.
Thus, the routine statements about an imminent final victory are unlikely to bring the hoped-for outcome closer by even a day. This year Kadyrov's forces will have to pull their socks up.
As a matter of fact, the meeting with veterans of the anti-Wahhabite struggle also had another purpose. Kadyrov's well-known fondness for ritualized shows is well-known, especially when they involve heavily armed men publicly demonstrating their obedience and willingness to comply with any order from the father of the nation.
One can find on the Internet a video which captures the scene when Kadyrov visits a military barracks. Lining up his men on the parade-ground, the President asks them in a stern but jovial voice: "Who are you?" And in response comes a friendly, harmonious roar: "Kadyrovites!"
On this occasion, too, the members of the Akhmad-Khadzhi Kadyrov Regiment shouted and cheered. And the President's press service reports that they showed the head of the republic their "professional skills". A demonstration of the "neutralization of terrorists" was performed with a vast array of military equipment and weapons which produced unimaginable noise and din. The residents of regions neighbouring Chechnya might well have decided that another regular full-scale war had begun in the republic.
The photograph is borrowed from the website of pismo-vlasti.ru.
Previous weekly reviews can be read at http://www.watchdog.cz/weekly.
(Translation by DM)
(P/T)