Poland – the new destination country of Chechen refugees
Text: Copyright Katarzyna Petrovskaya/YumeVision Reporters
Photography's: Copyright Swen Connrad'/YumeVision Reporters
Tel: +44 7092 25 66 10
E-mail: info@yumevision.com
WebSite: www.yumevision.com
Refugees run away from the peace declared by Russia
Poland has traditionally sympathized with Chechnya in its fight against Russia for independence. Warsaw named one of its roundabouts after the Chechen President Dzhokhar Dudayev in 2005. Upon Poland's accession to the EU on 1st May 2004, it became Europe's "green line", the border country with non-European Eastern countries. During the last 12 months, the number of refugees applying for asylum in Poland amounted to nearly 10,000 – 95 % of which come from the Russian Federation, or to be more precise from Chechnya.
According to the report of the Office for Repatriation and Aliens, 300 Chechen refugees filed for political asylum in Poland in the first week of October 2005 alone. In 15 centres for refugees in the country, about 3,500 Chechens are awaiting official recognition of refugee status, and every year Poland has spent 10 million Euros out of its own budget to provide for their stay.
They come to Poland principally through the Polish – Belarus border, at Terespol, 215 km from Warsaw. At the control point, the word "refugee" says it all. The border guards take their picture, their fingerprints and take away their passports. Then the refugees must fill in applications for the status of refugee and are sent to centres, where they are to wait for the official decision. They will stay there for a few months or even a few years – if they make an appeal against negative decisions.
They dream of being granted refugee status for at least two reasons. Firstly, during the first year of the refugee integration programme they will an allocation of about 250 Euro per month receive from the Polish government. The second reason is the "blue passport", the Geneva Travel Document, which allows refugees to travel to all countries of the world except their country of origin. In the last 10 months, 245 Chechens were issued with such documents, which represent less than 3 % of those having applied for asylum.
The rest were given negative decisions (more of 1900 Chechens) or granted temporary (and extendable) residence permits allowing them to stay legally in Poland for a period of 12 months (the case of around 1,400 Chechens in the last 10 months). 3800 Chechens have left the country. Few have succeeded in assimilating, the rest try to escape through the "green border" to Austria, Germany, Belgium or France. However, according to European legislation, the consideration of the application for refugee status remains the obligation of the country where the refugee first arrived. Thus, most of those who left will have to return to Poland and start a new life in a new, not-so-wealthy country, with very small chances of finding employment (Poland as an official rate of unemployment of 17 %). The fact that many Poles are in a similarly difficult situation will not be of much help.
Interviews
-For security reasons, the names of adult asylum seekers have been changed-
A centre, near Warsaw. 33-year-old Dokka lives with his 22-year-old wife Jaiha and three daughters:
"I lived in the centre of Grozny and worked on a building site, I earned quite a lot of money and practiced judo. It's a martial art ― every Chechen should know how to fight. My home was bombed during the First Chechen War in 1995. I managed to rebuild it in 1996, but it was completely destroyed in the Second Chechen War in 1999. I arrived here with my wife and two daughters seven months ago. Our third daughter was born in Poland, here in the centre. She's called Rajana, which means 'doors of Eden'… My wife's pregnant again and we are praying for a son. I'd like to pass on our traditions to him. I try to exercise and I go to Polish lessons. I'm hopeful that we'll get official refugee status and that we'll be able to stay. I can do any kind of work ― I'm not picky. In the summer, I travelled out of town to the country to get some mutton. I killed the sheep and drained the blood from it myself, according to tradition, so that the meat was 'clean'. We never get mutton here in the centre. My wife makes traditional Chechen meals from the boiled potatoes, salad and chicken that we have for lunch every day, just like all the other women here in the centre. We don't drink or eat now, because it's Ramadan. We pray in one of the rooms which serve as a mosque and we also have an Imam. When Ramadan ends, I'm going to go with the other men from the centre to a real mosque in Warsaw. The women begin cooking the festive meals three days before the end of Ramadan. Come and see. In our home in Chechnya we always had lot of guests. We'd give each other presents. We'll have a three-day holiday here as well."
A centre, near Warsaw. 42-year-old Aslambek lives with his wife, mother-in-law and 6-year-old daughter:
"We arrived here from Grozny three weeks ago. I'm still not sure whether we'll stay in Poland or go west. I've heard it's very difficult for Chechens to get political asylum in Poland. For the time being we're happy that we're in a safe place. We lived for four years in one room in our home in Grozny, because the rest of the house had been destroyed in the bombing of 2001. We didn't have any gas or any electricity and would get water from workers of the Polish Humanitarian Organisation. I didn't have the money to re-build the house. The Russian authorities promised to pay for the rebuilding of our houses, but I don't know anyone who has been given any money. I would first have to pay half of the money myself (around 150,000 roubles) in order to receive the whole amount of 300,000. That was the condition, but where am I supposed to get that kind of money from? I couldn't find a job. Putin declared peace in Chechnya, but it's only peace for him. The war still goes on for the people of Chechnya."
A centre, near Warsaw. 26-year-old Shakhman lives with his wife Irair and 2 daughters:
"We came here from Chechen-Aul, which is 16km from Grozny five months ago, but I hope we'll be able to leave Poland and go to another country. My oldest daughter needs treatment and I've heard the medical care in Germany is much better, but you need money for the journey. During the war I lived with my family in our home in the country. I didn't take part in the fighting. In 2004, the militia picked me up off the street, beat me and told me to sign a piece of paper. I didn't know what was there and they didn't let me read it… My family bought me out for 1,400 American dollars. They kidnapped me again a year later. They put a sack on my head and drove me somewhere ― I don't know where. They tortured me, electrocuted me and beat me for six days. I signed everything. They let me go giving me two weeks to collect information for them about my school friends, who had become rebels. After that, I decided to leave. We left my old mother. My father had a heart attack and died after they kidnapped me for the second time," says Shakhman.
"When the militia took Shakhman I was eight months pregnant. I gave birth to twin boys, but the birth came too soon. The boys couldn't be saved as we don't have a hospital in the village and we don't have ambulances anymore. We left for Poland separately. I went with the children through Ingushetia, Russia and Belarus travelling for almost five days. I was pregnant and my 2-year-old older daughter had to sit on my lap for the thirteen hours of the bus ride. My daughter was born with a deformed head shortly after we arrived. Our oldest daughter is very sick. She looks like a 1-year-old baby, even though she is 3. There is only one doctor for both the adults and the children here in the centre, but my baby needs special examination and treatment. Even if we get political asylum, we will have to leave the centre within two weeks. We don't have anywhere to go. My husband's an invalid after being tortured ― he suffers from dizzy spells and is hard of hearing. He won't find a job. We have to leave Poland for another country to treat our daughter… I heard that Austria takes in Chechen refugees," says Shakhman's wife Irair.
Agnieszka Jasiakiewicz, a lawyer of the Association of Legal Intervention, who specialises in cases relating to refugees:
"One of the greatest problems for the refugee centres is medical care, which practically doesn't exist and also the fact that the refugees are isolated from the rest of Polish society. There is also a lack of a detailed and clear explanation of the legal rights of foreigners in Poland. On the notice board of every centre there is information in Russian about where refugees can receive legal advice, but hardly anybody is interested. However, the greatest problem is above all the fact that these foreigners have very slim chances of obtaining official refugee status. Refugees are entitled to legal aid and defence in Poland thanks to the Geneva Convention. A mere 5 percent of those applying for political asylum receive asylum. The formal basis on which official refugee status is given is a loose interpretation of the Convention. Poland recognises the fact Chechen people are repressed by Russian armed forces because of the ongoing conflict and not because of racial prejudice on the part of regular Russians. The war has officially come to an end. At present, we find civilians who fear for their lives escaping from Chechnya. In this situation, those people escaping persecution do not fulfil the conditions of the Convention according to Poland. The reason for this policy lies in current international circumstances and the fact that Polish-Russian relations are very poor and also the fact that Chechnya is a particularly sensitive issue for the Kremlin."
A centre, near Warsaw. 48-year-old Hadzhit lives with her three daughters aged 18, 20 and 23:
"My husband was killed in 2000. After the war in 2004 I found work on a building site. Every three night's masked soldiers speaking in Russian would come to my house in Grozny looking for weapons and asking about the men. I decided to leave after they raided violently the house again five weeks ago. The four of us live together in a small room here, but with God's help we'll survive. I'm not frightened of getting my hands dirty ― any job will do. My girls have already started learning Poland. We're so happy that Poland has taken us in," says Hadzhit.
"I'd like to get married, have children. I like the way women dress here, they look nice. I always wear long skirts and wear a head-scarf. The young men look my way in the shop next door, and speak to me in Russian, but I'll only marry a Muslim," says Hadzhit's 23-year-old daughter Khava.
Malgorzata Tomaszewska a social worker employed by the Office of Repatriation and Aliens and director of the Moszna centre near Warsaw:
"Our centre was established in 2004. The Office leases the building from a private owner. It used to be a hotel for workers of the power station, but it was closed down. I have 208 refugees here now, all of them from Chechnya. Apart from the security guard downstairs, I'm the only person who works here, so I have a lot to do. I work from 8 in the morning and never manage to finish at 4. I had an assistant for a month, but he left because he was not making enough money. It was not worth his while travelling in from Warsaw. I make €260 a month, which is very little, but I won't find another job here in Moszna. I'm very tired. We haven't had any NGO or humanitarian representatives, lawyers or psychologists visit the centre for a year. I hear that the situation is different for those centres closer to Warsaw. The refugees live in very good conditions here, though ― every room is ensuite — in some centres there are twenty families per bathroom. I do not know what they do in the day, they get up late — they have no reason to get up any earlier. They are quite active at night, especially now during Ramadan. The refugees have Polish lessons twice a week, but none of the adults go. Besides, the majority do not plan on staying in Poland. I always take a register in the morning and often find that someone has disappeared over night together with their whole family; this usually happens in the spring and summer, when it's warm. I know that they are all trying to get across the border into the west."
A centre, near Warsaw. 38-year-old Shamil lives in one room together with his wife, a 2-year-old son and 3-year-old daughter:
"We arrived from a refugee camp in Ingushetia four months ago. I lost both legs during the bombing of my home town Achkhoj-Martan in 1999. I didn't take part in any of the fighting. I was an office worker before the war. I left for Ingushetia to be treated for my injuries. I fell in love with the nurse who was looking after me. We got married and had two children. My wife's pregnant again ― I hope we have a son. The hospital here has told me that the price of an artificial limb is €2,500, and that's the cheapest one. A really good one costs €50,000. Where am I supposed to get the money from? If we get official refugee status and passports then we'll leave for Austria where they make really good artificial limbs and the medical care for refugees is a lot better, so I'll be given help to buy them. We can't leave illegally, the journey would cost us around 3,000-5,000 dollars. If we're turned down then we'll have to try. I won't give up."
A centre, near Warsaw. 18-year-old Shamil lives with his 15-year-old wife Madina:
"I came to Poland six months ago. I wanted to leave Chechnya as soon as possible, in secret. I took nothing with me, not even any photographs, only the clothes I was wearing. My father died during the fighting in 2000 and my two brothers disappeared without a trace after they were arrested by the Russian militia. When the militia started coming to see my mother asking about me, I was frightened that the same would happen to me. I hid at friends' houses for my last few months in Chechnya. I didn't plan the journey ― my friends in Grozny got me in touch with a woman, whom I paid 150 dollars. She travelled with me and a group of refugee's right up to the Polish-Belarus border. I met Madine in the centre. She arrived from Chechnya with her parents a year ago. We got married a month ago and had a real wedding. It's just a shame my mother couldn't have been there, but I've got a mobile phone and call her as often as I can. If I'm granted political asylum, I'll think about what to do next. It's difficult planning anything at the moment, because it's really difficult for Chechens to find work."
A centre, near Warsaw. 13-year-old Magomet lives with his mother:
"I arrived here with my mother three months ago. I'm learning Polish and English. I want to finish school and then go to university in Poland and become a doctor because doctors saved my life when I was wounded in Grozny. I speak to my mother only in Chechen, I dream about being able to return home one day, but I'm frightened because I remember that the soldiers would come and threaten me and my mum and beat us… Both my grandma and granddad died in Chechnya. I brought a Muslim prayer book with me from Chechnya. I prayed to have a foreign friend and now I've got one."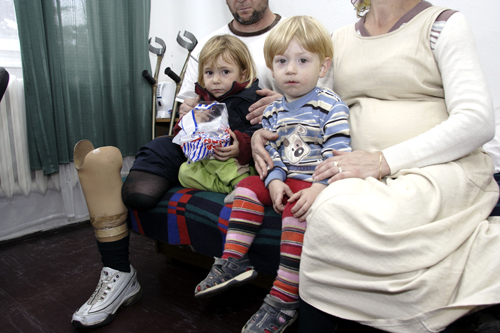 © YumeVision Reporters
Chechen man with his wife and 2 children, in URiC refugee centre, Poland. He has lost his two legs during the Russian air bombing of AP over his village where were not any rebel fighters... During the hospitalisation in Ingushetia he has fallen in love with the doctor, they've married soon and were trying hard to live a normal life with the daughter of 3 years and the son of 2 years. The Russian force were coming to his place weekly interrogating and threatening . They have decided to leave for a safer place. Poland welcomed them.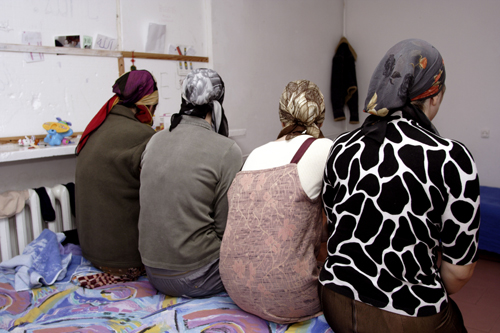 © YumeVision Reporters
Four women who've just arrived two weeks ago from Chechnya, at the URiC refugee Centre in Poland. They were intruded several times by the cowled soldiers of the Russian Force. I decided to leave after they raided violently the house again five weeks ago. We have been travelling for six days and night from Grozny to Moscow and then to Poland to reach the safety.
-For security reasons, the faces of adult asylum seekers have not been photographed.
-For security reasons, the names of adult asylum seekers have been changed.
-Article 9 of the Act of 13 June 2003 on grating protection on the Polish territory
(Journal of Laws, N° 128, it. 1176) personal data of refugees are an object of particular protection.
Please keep the safety of those people in mind.
Thank you.
------------------------------------------------------------------------------------------------------------------------------------------------
Prague Watchdog thanks to Yume Vision for cooperation in making the material available on our website.
(T)