Over 40% of Nalchik residents link upsurge of violence in Kabardino-Balkaria with spread of Chechen war
According to a sociological survey conducted by the Internet news agency Caucasus Times among the people of Nalchik, Kabardino-Balkaria, a substantial number of respondents (42%) assume that the recent armed clashes in January and February, during which several members of the Islamic group "Yarmuk" had been eliminated, are a direct consequence of the expanded war in Chechnya.
In addition, almost half of the Nalchik respondents (46%) believe that these events were caused by the actions of the local law enforcers. Meanwhile, only 27% see this as a manifestation of religious extremism; 16% connect these events with fighting international terrorism; and only 4% see this as fighting local crime.
Despite the fact that almost half of the people felt the situation escalated in Nalchik due to the law enforcers, 33% evaluated the actions of the Ministry of Interior and other authorities as "optimal." While 25% found their actions "excessively rough", 23% thought they were "not tough enough." And 19% refused to answer this question.
In response to "What is the current hottest problem in Kabardino-Balkaria?" the overwhelming majority (93%) indicated social and economic problems, and more than one-third (36%) said it was security (crime, terrorism). Religion (15%) and corruption (15%) also proved to be serious concerns, whereas only 1% considered ethnic problems to be more serious.
Most people were moderate in evaluating the development of the situation in the republic. A little more than half (53%) assume it "will not significantly change in the near future"; 34% expect it to deteriorate; and only 13% think it will improve.
The federal center's plans to cancel elections of regional heads and have the Kremlin appoint them instead, caused mixed feelings among the people of Kabardino-Balkaria. The number of those who consider this to be a stabilizing factor (33%) and others who feel this will create new problems (32%) is approximately equal. Yet a substantial number (27%) failed to express any opinion and only 8% believe this will magnify the existing problems.
The respondents, however, had a clearer view about the consequences of replacing a series of state benefits with cash, which could be one of the reasons for the widespread feeling of pessimism in Russian society. Only 20% indicated this would "more than likely improve living standards in the republic." While 26% expressed the opinion that this measure would "most likely deteriorate living standards," 28% believe this will, indeed, "deteriorate living standards". It must be noted that no one said that replacing state benefits with cash would contribute to an improved standard of living. Yet the number of those who did not have a clear opinion on this question proved to be very high (26%).
Note: The poll was conducted in Nalchik on March 1-5 and included 100 people (48 men and 52 women) over the age of 16. Two answers were allowed for some questions.
Charts (answers are in per cent):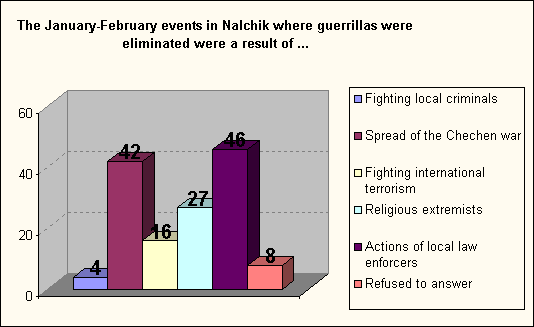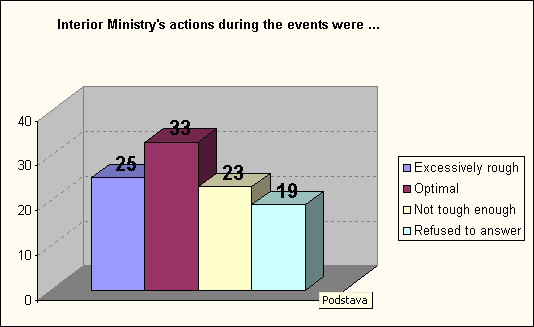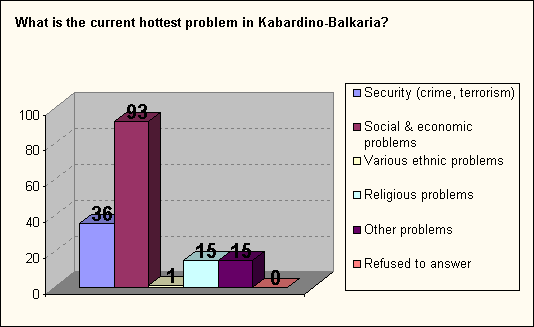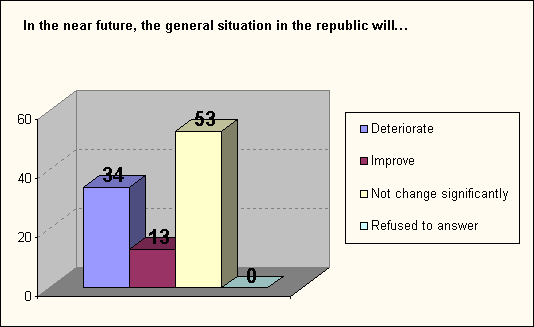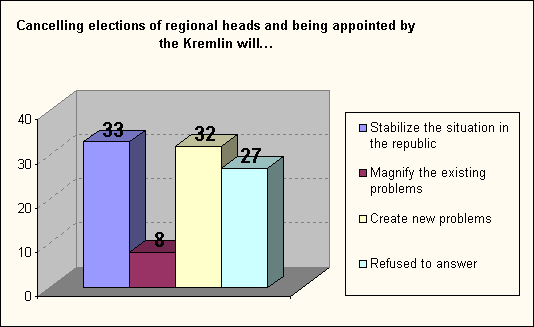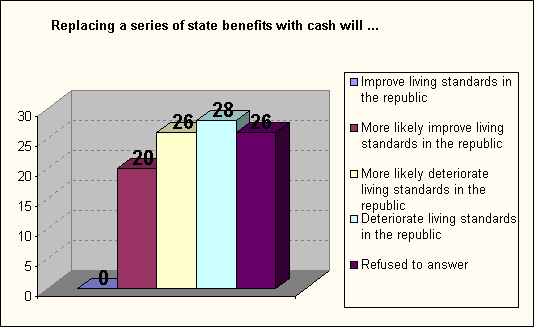 Translated by Mindaugas Kojelis/Prague Watchdog.
(MK/E,T,B)