Alleroy youths join the guerrillas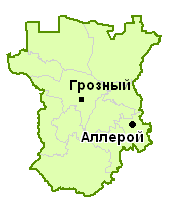 By Ruslan Isayev
CHECHNYA - A joint meeting of community leaders and local law enforcement officials has taken place in Chechnya's Nozhay-Yurtovsky district. The meeting was called after six youths from the village of Alleroy joined the guerrillas.
The law enforcers were sharply critical of the community leaders who, they say, are not conducting explanatory work among the population. The district prosecutor, Oleg Remezov, remarked that they had indeed failed to carry out such work, and at the meeting a motion was passed to the effect that it should begin as soon as possible.
Chechnya's Mufti Sultan Mirzayev has also acknowledged that throughout the whole republic some twenty young men have recently joined the resistance. Speaking on local television a week ago, he appealed to parents and public to give more attention to the increasing evidence of such enlistments among young men in Chechnya.
(D/T)