The prodigal son's confession (weekly review)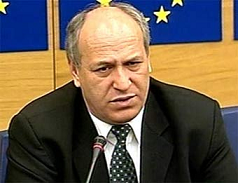 By Dzhambulat Are
GROZNY, Chechnya – Last week Ramzan Kadyrov received the longed-for moral and ideological support he was denied during the years of his time first as premier and then as president. Umar Khambiyev – the former Ichkerian health minister, President Aslan Maskhadov's former general representative in European countries, one of the pillars and moral authorities of the Chechen separatists – inclined his head.
In an interview for the Vesti-Severny Kavkaz news agency, Umar Khambiyev said that while he himself was an opponent of Kadyrov, and had made a great many speeches blaming him for what was happening in Chechnya, he now saw that Kadyrov was really making an effort, doing something for Chechnya. "This man genuinely wants the republic to prosper, his aspirations are genuinely connected with the people, and by what he is doing he is proving that he cares about them."
Umar Khambiyev says that he does not plan to return to Italy, where he was granted political asylum. Explaining the reason for its decision, he openly rejects the arguments of his recent allies among the human rights defenders who claim that Chechnya is still a troubled territory where no one can feel safe.
However, we need merely recall the fate of one of Ramzan Kadyrov's recent critics – the religious leader Mukhmad-Salakh Masayev. After he gave an interview to the Novaya Gazeta newspaper he was kidnapped by unidentified assailants right in the middle of Grozny. His whereabouts are still unknown.
"A person can live here in perfect safety," said Umar Khambiyev, nevertheless.
In order to understand how flattering Kadyrov finds opinions of this kind it is necessary to remember Khambiyev's past fortunes. At the beginning of the second Chechen war, he – along with the guerrillas – was taken prisoner and endured the nightmare conditions of the Russian concentration camps. He only obtained his freedom through the intervention of influential Moscow Chechens.
Umar Khambiyev's brother Magomed was not an ordinary guerrilla – he was Ichkeria's defence minister. Kadyrov took several of the Khambiyevs' relatives hostage, and as a result Magomed was forced to lay down his arms. But now all that is forgotten. At least, that is what Maskhadov's former emissary to Europe is calling for, the man who from the lofty tribunes of European institutions sometimes used to try to persuade European politicians that the Moscow-backed regime of the Kadyrovs – first father, then son – had no future, and that the men who had been put on the throne by the Russian government did not have the right to speak on behalf of the Chechens.
Khambiyev is confident that his example will be followed by other "Ichkerian" officials.
Meanwhile, Ramzan Kadyrov has become personally engaged in the hunt for Sulim Yamadayev. Without waiting for his own interior ministry to achieve the expected result, the Chechen President has launched a vigorous, but so far only verbal attack aimed at forcing the ex-Vostok commander's protectors to give him up.
According to the Chechen President's press service, Kadyrov is confident that Moscow's law enforcement bodies are aware of the whereabouts of Yamadayev, who is reportedly hiding from justice in one of the elite districts of the Russian capital city.
"Basically, what is involved is a criminal who motivates his actions by allegedly providing security, who ignores the law and the basic norms that protect public safety, who has gathered around him an armed group of twenty men and who is sitting tight more or less in the centre of the capital. A criminal for whom an arrest warrant has been issued, with men around him who are armed to the teeth, in a densely populated area of the Russian capital – is that not a real threat to society?" Ramzan Kadyrov inquires.
The Moscow-backed Chechen President knows what he is talking about. When his janissaries come for Yamadayev, the metropolitan area which has given shelter to the fugitive Hero of Russia may indeed become a real disaster zone.
The photograph is borrowed from the website inworld.kz.
Previous weekly reviews can be read at http://www.watchdog.cz/weekly.
(Translation by DM)
(P/T)