Chechen resistance leader Abdul-Khalim Sadullayev killed in Argun
Published at 8:29 GMT, last updated at 21:40 GMT.
By Tomas Vrsovsky
(Prague Watchdog) - Abdul Khalim Sadullayev, who leads Chechen resistance and last year replaced the late President of the Chechen Republic of Ichkeria Aslan Maskhadov, was killed in a police operation in the town of Argun, Russian sources reported today. Sources close to Chechen resistance have subsequently confirmed the news.
The operation aimed at liquidating Sadullayev was carried by the Chechen Interior Ministry's Akhmad Kadyrov special purpose regiment and local police. Sadullayev was killed when he put up armed resistance. His two security guards managed to escape. Two officers taking part in the operation have been killed, Russian sources said.
"At the moment we have no doubts about the fact that Sadullayev has really been liquidated. His body is next to us and it has been recognized by people who knew him very well," Argun police department head Ali Tagirov told Russian news agency Interfax.
The Moscow-backed Chechen Premier Ramzan Kadyrov said that Sadullayev arrived in Argun a week ago. Today's operation prevented the guerrilllas' plans to carry out a large "terrorist act" in Argun on the occasion of the mid-July G8 summit in St Petersburg, added Kadyrov.
Sadullayev will most likely be replaced by his deputy, top Chechen field commander Dokku Umarov, stated Usman Ferzauli, one of Sadullayev's representatives to Europe.
Sadullayev replaced the then President of the Chechen Republic of Ichkeria Aslan Mashkadov a year ago, on March 9, 2005, a day after Maskhadov was killed by Russian forces (see Prague Watchdog's report of March 8, 2005). Since his becoming President, he has tried to create the so called Caucasus Front that would unite local guerrilla groups from the North Caucasus republic to jointly fight Russia.
**********************************************************************
Sadullayev became another Chechen president that died a violent death. The previous leaders with this fate included:
Aslan Maskhadov, the democratically elected President of the Chechen Republic of Ichkeria, who was killed probably in an operation carried out by Russian special forces in the Chechen village of Tolsoi-Yurt on March 8, 2005.
Akhmad Kadyrov, the Moscow-backed President of the Chechen Republic, who was killed in a bomb attack at a stadium in Grozny on May 9, 2004.
Zelimkhan Yandarbiyev, the once acting President of the Chechen Republic of Ichkeria, who was killed by Russian agents in Qatar on February 13, 2004.
Jokhar Dudayev, the first Chechen President, who was killed by a Russian missile near the Chechen village of Gekhi-Chu on April 21, 1996.
**********************************************************************
Last two Presidents of the Chechen Republic of Ichkeria, Aslan Maschadov (left) and Abdul-Khalim Sadullayev (rigth):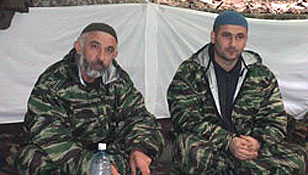 (T)

RELATED ARTICLES:
· The Presidents of Chechnya (PW, 21 April, 2006)